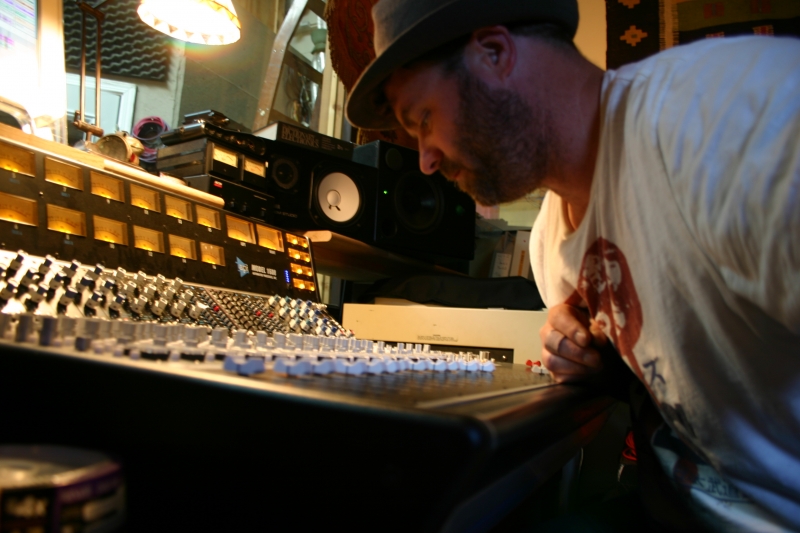 Gregory Howe
Gregory Howe is an American musician, producer, composer, and band leader. In 1996, he founded Wide Hive Records. Over the past two decades, Wide Hive Records has created over fifty albums with musical artists/icons such as Roscoe Mitchell, Kamasi Washington, Larry Coryell, Calvin Keys, Erik Jekabson, and Phil Ranelin. He is a founding member of Throttle Elevator Music, Wide Hive Players, Neomythics, Dissent, and Variable Unit. Most recently Howe completed his first solo album set for release in July 2017.
Gregory Howe's musical career began in the early 1990s with the formation of a band and the establishment of a makeshift recording studio in his living room. By the late 1990s, Howe created "The Wide Hive," a combination record store/café/performance venue with a full-service recording facility on Mission Street in San Francisco. Wide Hive's Mission Street location integrated musicians with community and emphasized artistic independence. CDs created on-site were sold directly to patrons at the gig.
During this time Wide Hive Records' catalog would soon increase to more than 30 releases. While primarily active as producer, mixer, and composer, Howe periodically appears on Wide Hive recordings using any combination of guitars, synthesizers, turntables, voice, and percussion. The band that put Howe and Wide Hive on the map with an eponymous release in 1998 was called Dissent.
Dissent's second album, Bleeding Together (2002), is emblematic of a culture where musical genre distinctions are fast becoming blended like dyes in a progressively unfurled silk painting. Bleeding Together, in fact, appeared almost simultaneously with Calvin Keys' Detours Into Unconscious Rhythms and two edgy offerings by Howe's Variable Unit featuring MC Azeem Ismail (Seven Grain, Mayhemystics), an Afro-Jamaican-Panamanian-American rapper who achieved national fame while working with Michael Franti & Spearhead. It was through Howe that Azeem hooked up with DJ Zeph from Santa Cruz for Zeph's #1 CMJ album and single "Rubber and Glue."
Within the last decade, Howe produced nearly 30 records including several with Larry Coryell, Phil Ranelin, Roscoe Mitchell, Neomythics, Erik Jekabson, and Throttle Elevator Music. Several releases also featured many well known musicians such as Pharoah Sanders, Wendell Harrison, Fred Wesley, Harvey Mandel, Chester Thompson, Henry Franklin, and drummer Big Danny Ray Black (aka "Big Black"). In the same period, Howe also produced recordings by vocalists Faye Carol, Jessica Cooke, rocker Ken Flagg, DJ Quest, and the Mission District's own JRK. In 2006, Howe put together Salsa Blanco, a Latin soul and salsa album with strong ties to the Mission District of San Francisco, the neighborhood where Wide Hive first flourished. After seven years in the Mission, Wide Hive finally moved to the East Bay and is now based in Berkeley, California.
Wide Hive's musical approach has been described as being respectful of past tradition while progressing toward new musical horizons. It is this direction that led to the formation of both The Wide Hive Players and Throttle Elevator Music. With "The Players," Howe pulled together several talented Bay Area artists including bassist Matt Montgomery, trombonist Mike Rinta, saxophonist Doug Rowan, and drummer Thomas McCree with master guitarists Drew Zingg, Barry Finerty, Calvin Keys, Harvey Mandel, and Larry Coryell. For Throttle Elevator Music, Howe brought a similar backing group to support saxophonist Kamasi Washington. Since its commencement in 1997 Wide Hive and Gregory Howe have remained dedicated to the production of distinctive and transcendent music and have become best known for both fostering great young talent and creating original music with legendary artists.