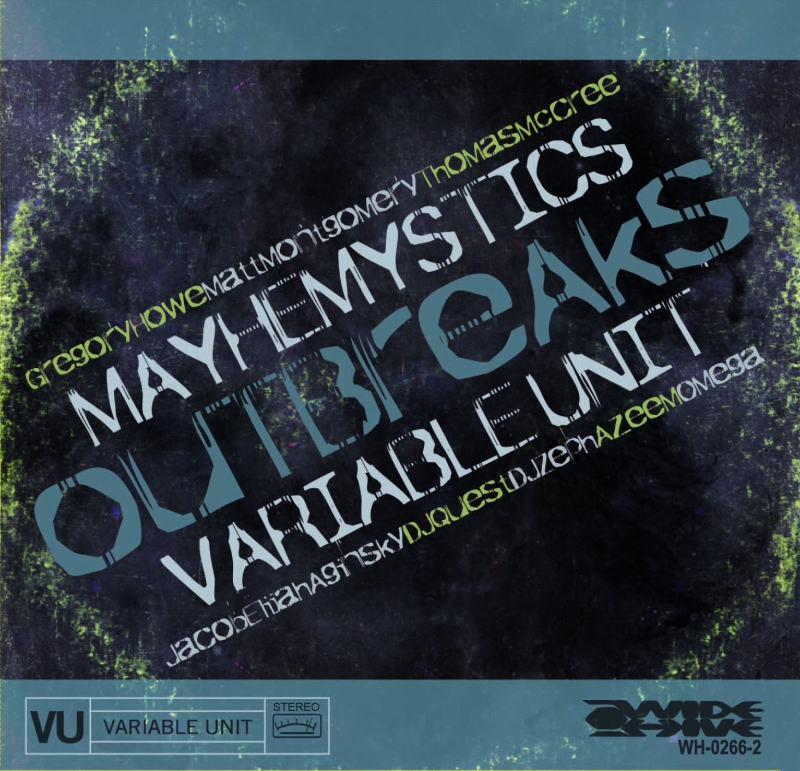 Mayhem Mystics - Outbreaks
"No one will mistake Mayhemystics Outbreaks for a straight-ahead hard bop date; this isn't a group of retro-boppers playing John Coltrane's "Giant Steps" followed by Sonny Rollins' "Pent-Up House" and Charlie Parker's "Ornithology." But V.U.'s members do sound like they might have been checking out electric Miles Davis, mid-'70s Roy Ayers, or Lonnie Liston Smith's Cosmic Echoes." — Billboard
artist: mayhemystics
In this, his sixth production for VU, producer and artist Gregory Howe (dissent) has again brought together many independently recognized artists to form a solid continuance from prior VU recordings, and to build a bridge toward a future cohesive Unit. On 'Outbreaks', well known rap artists Azeem and Bay Area turntablist DJ Zeph are reunited for a fourth time on Wide Hive Records, and they continue to deliver on their streetwise credentials, which began with their #1 CMJ hit "Rubber and Glue" (DJ Zeph, 2001).
DJ Quest, known as a pioneer of the turntable, has created many recordings with The Bulletproof Space Travelers (Bomb Hip-Hop), Live Human (Matador Records) and many more on his own. Keyboardist, Jacob Elijah Aginsky has recorded with Blackalicious and performed with nationally known acts such as Vivindo De Pao, Mingus Amungus, and Medeski, Martin, and Wood.
Matt Montgomery co-authored VU's first hit single, "The Promise" (From Seven Grain #3 CMJ), Handbook for the Apocalypse (CMJ #4), and "Rebel Music" (from Mayhemystics) and currently plays locally with jazz legend Calvin Keys. Drummer Thomas McCree tours consistently with groups in as varied a form as Gospel, Reggae, and Hip-Hop, and is now working on his first solo record.
Omega, known for her back-up vocal work in Blackalicious (Quannum Records), is also credited for working with 'Afromystic,' (OM Records).
Also featured on 'Outbreaks' are several guest musicians such as San Francisco Reggae legend Tony Moses, Paul Hansen (Bela Fleck) on Bassoon, Tim Hyland (dissent and DJ Zeph) on trumpet and flute, and Lisa Rein singing background vocals on 'Black Gold.'
Jacob Elijah Aginsky: Keyboards
DJ Zeph: Turntable
DJ Quest: Turntable
Matt Montgomery: Bass
Thomas McCree: Drums
Azeem: Vocals
Omega: Vocals
Gregory Howe: Composition, Production
Track Listing:
1. Something Is Happening
2. Camouflage Prison
3. Love, Truth, Peace, Freedom and Justice (Lyrics)
4. Plutonian Plutarchy
5. Black Gold (Lyrics)
6. Second Seals
7. Late Night Breakout
8. Contradiction
9. Spring Break
10. Liberation 2
11. Trust Me
12. Outroduction
13. Theme In Search Of Joe Frank
Variable Unit recorded and played live from 2000 – 2005, making five albums with a collective of Bay Area talent. Seven Grain, Cold Flow, Handbook for the Apocalypse, Mayhemystics, and Mayhemystics Outbreaks. The sound for VU consisted of hip-hop, funk and turntablism.