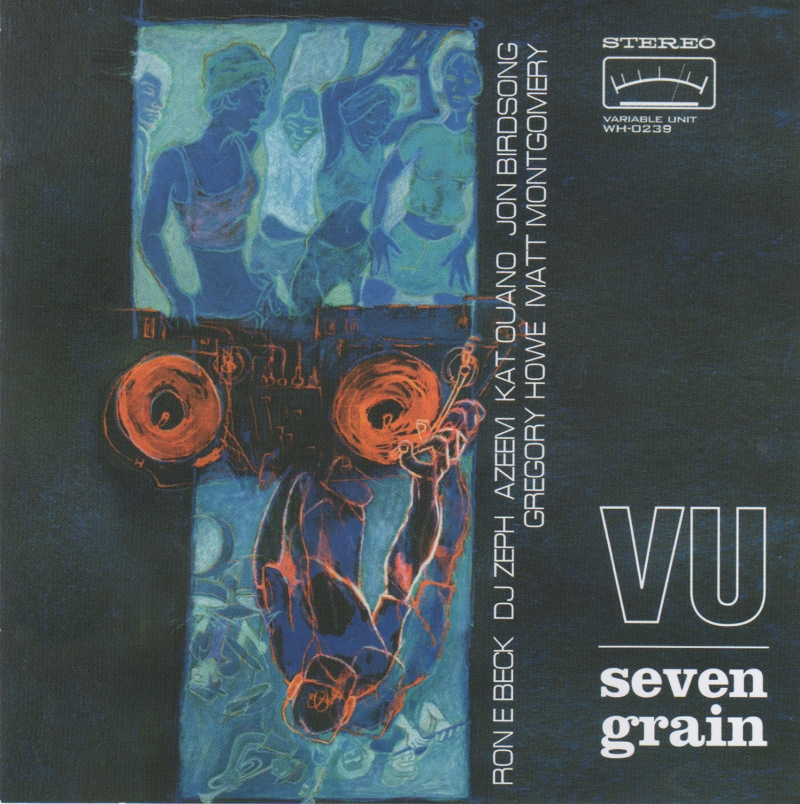 Seven Grain
"This is the disk you want to put on when you get home from a hard day at work. Funky strings and a brassy edge will melt away all your tensions. A solid contribution to the Bay ARea-centered live hip-hop/jazz sound phenomenon." — URB
Through the tracking of live performances and innovative studio work, Seven Grain candidly captured the birth of an evolving musical genre. Seven Grain's rare innovative merging of musical mediums with a live feel were recorded mainly on Feb. 28 and 29th, 2000 either directly from a series of 'Live Issued Product' shows Variable Unit or rehearsals.
The musicians who performed in this line-up of VU were: Matt Montgomery-Bass, Kat Ouano-Keys, Ron E. Beck-Drums, DJ Zeph-turntables, Gregory Howe-Guitar, Jon Birdsong-Trumpet, and Azeem. Guitar legend Calvin Keys played on one date, as did bassoonist and saxophonist Paul Hanson. The shows were recorded by Ben Conrad, and subsequent mixing and editing were performed by DJ Zeph, Ben Conrad and Gregory Howe.
Track Listing:
1. Seven Grain
2. The Promise
3. Sirens
4. Short Bread
5. Hiccup
6. Jumentous
7. Dr. J. Dub
8. Sniper
9. Minus one
vb 10. Eighties Product
11. Countdown
12. Pyramid Scheme
13. Staggering
Variable Unit recorded and played live from 2000 – 2005, making five albums with a collective of Bay Area talent. Seven Grain, Cold Flow, Handbook for the Apocalypse, Mayhemystics, and Mayhemystics Outbreaks. The sound for VU consisted of hip-hop, funk and turntablism.