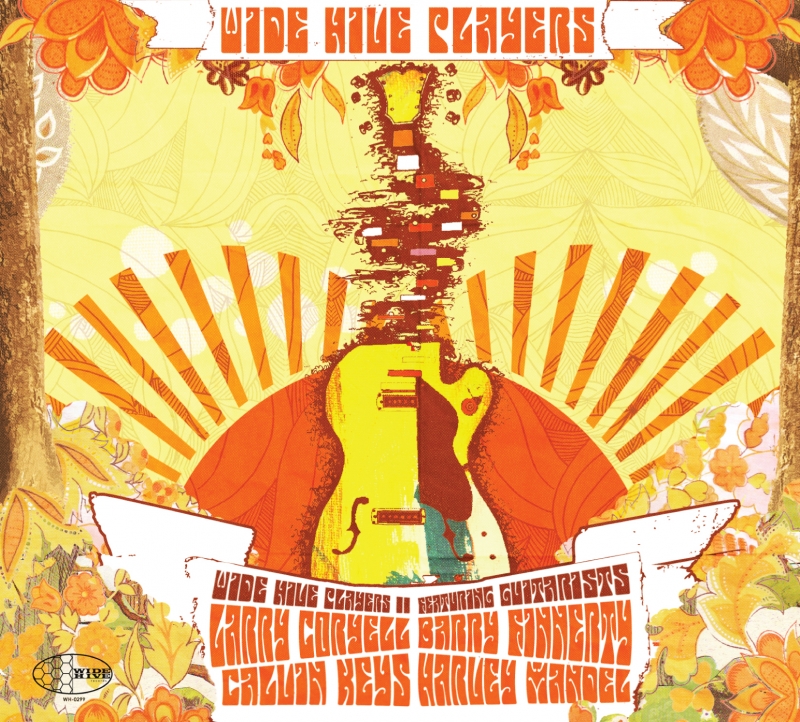 Wide Hive Players II Guitar
"This is a refreshing soul jazz classic that basks in West Coast sunshine." --BBC Music magazine
Players II Guitar is a conglomerate musical effort spanning funk, soul, jazz, and rock that showcases Harvey Mandel (Rolling Stones, Canned Heat), Calvin Keys (Ray Charles, Black Jazz), Barry Finnerty (The Crusaders, Chico Hamilton), and Larry Coryell (Charles Mingus, Arista Records). Keyboard and bass player Matt Montgomery shares his songwriting talents on four tracks, with contributions from label owner/engineer Gregory Howe and trombonist Mike Rinta finishing out the record.
"The Wide Hive Players are a collective of talented in-house players from the San Francisco-based label Wide Hive Records. Producer and label-owner Gregory Howe, who clearly has a great ear, has penned a striking selection of soul-fused jazz tracks for his house band. From surprisingly fast drum intros, to gorgeous gutsy horn harmonics, which in the case of Mending Gravity have a curious dirge-like feel; this disk is topped off by Thomas McCree's rippling B3 organ. Producer- led UK labels such as Tru Thoughts have drawn in a wide net of music fans- this stateside band deserves to do likewise." -- BBC Music Magazine
Track Listing:
1. Luminous Life
2. Preacher's Pistol
3. Find a Way
4. Sworn Statement
5. Jackle Chatter
6. The Paladin
7. Sky Switch
8. Gettin' Back
9. Song for Snake
10. Chase Through Grey Room
11. Be Careful What You Wish For
The Wide Hive Players is a group that descended from the house band. Core members of the Wide Hive Players include Gregory Howe, Matt Montgomery, Tim Hyland, saxophonist Doug Rowan, and drummer Big Thomas McCree.