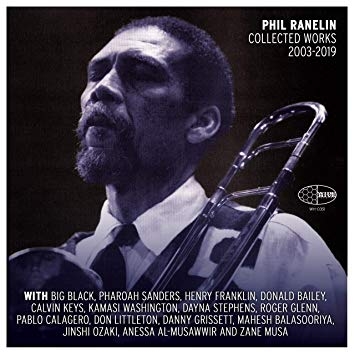 Phil Ranelin Collected Works 2003-2019
Phil Ranelin's love for the slide trombone stems from the almost royal tradition that the trombone holds in Indianapolis' Jazz heritage: and from the slide trombone's spiritual position within the genesis of Jazz as an indigenous American cultural treasure. Phil Ranelin is a fourth generation Indianapolis native son and as such, he is a modern day continuum of J.J. Johnson and his "Naptown" slide trombone forefathers such as Reggie DuValle (Ranelin's first private instructor), Tillman Buggs, Slide Hampton and others.
In the early history of Jazz, slide trombonist, Edward "Kid" Ory, was a legendary New Orleans' funeral march "tailgater." His position was at the end of the marching band, yet at the head of the "second line," the common people. This tradition placed the trombone as the Jazz instrument that connected the living to the dead. This spiritual component is a very crucial part of the Jazz legacy that has been continuous throughout its evolution, in spite of its forced historical affiliation with the fast nightlife of the underworld and the stereotypical imagery of Jazz milieux in the arts as well as in commercial advertisement.
Louis Armstrong's "When The Saints Come Marching In" and John Coltrane's "A Love Supreme" are part of this Spiritual Jazz trek which includes Duke Ellington's Sacred Concerts and the works of Sun Ra, Alice Coltrane, Pharoah Sanders, Doug Carn and Phil Ranelin who is grouped with them in what the Japanese categorize as "Spiritual Jazz."
Like Ranelin's life in music, the slide trombone stands as unquestionable authentication of what perseverance is all about. From early players such as Ory and Dicky Wells, to big band era soloist such as Lawrence Brown, Joe "Tricky Sam" Nanton and Trummy Young, followed by BeBop "Bone" revolutionaries such as Bennie Green, J.J. Johnson, Curtis Fuller, Melba Liston and Al Grey - Phil Ranelin stands on the shoulders of a long line of great trombonists who held their instruments up above the evolving trend to overlook the slide trombone as a preferred lead instrument. On www.trombone-usa.com Dutch trombonist, Rene Laanen documents Phil Ranelin and hundreds of other slide trombonist who continue to persevere.
As a Straight Ahead innovator, Phil Ranelin continues to explore new realms of collaborations with younger generations, with the presentations of atypical configurations, and with complex-rhythmic and melodic-groove juxtapositions.
Track Listing:
SIDE A
FREDDIE'S GROOVE / 7.35
HORACE'S SCOPE / 5.30
THIS ONE'S FOR TRANE / 8.43
SIDE B
LIVING A NEW DAY / 6.50
BLUE BOSSA / 6.14
METAMORPHOSIS / 7.30
SIDE C
A TEAR IN ELMINA / 5.49
CLOSE ENCOUNTERS / 5.47
SHADES OF DOLPHY / 8.34
SIDE D
IN SEARCH OF THE ONE / 8.48
MOORISH / 3.49
PERSEVERANCE 2019 / 9.48
SIDE E
FULL MOON / 6.33
EXCURSION TO FANTASY / 8.38
SPIRITUAL VIBRATIONS / 7.28
SIDE F
HOW DO WE END ALL THIS MADNESS / 7.11
FANTASY VIBRATIONS / 6.45
BLACK ON THE NU / 5.51