Jazz Guitarist Calvin Keys Returns for Electric New Album
Examiner.com
Tuesday, September 24, 2013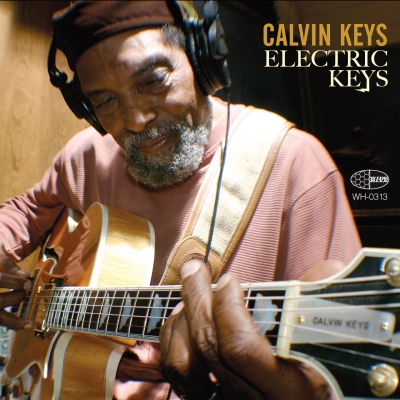 70-year old Calvin Keys can do more with his Heritage Golden Eagle Hollowbody guitar than most musicians half his age.
The Bay area string-picker's been at it since he was a kid, having learned dabbled on his uncle's Gibson guitar—against the wishes of his father, a professional drummer. But both uncle and dad relented when they heard just how good Keys was on the instrument and encouraged him to pursue music. Blues guitar whiz Frank Edwards introduced the young prodigy to "real" music like Duke Ellington and Count Basie, whose influence added to Keys's growing vocabulary.
Since 1969, Keys has fronted his own jazz quartet, teamed with pianist Ahmad Jamal for a string of acclaimed records, and accompanied such legendary organists as Doug Carn and Jimmy Smith. Keys also played with Taj Mahal, soul singer Ray Charles, and saxophonist Sonny Stitt. Heck, he even backed Bill Cosby on a long-forgotten 1972 album.
But now Calvin is back with his third proper solo album (and first in seven years), the fittingly-titled Electric Keys (Wide Hive Records). Backed by Matt Montgomery (bass, piano), Josh Jones (drums), and the horn section of Doug Rowan (sax)and Mike Rinta (trombone), Keys stretches out on ten tracks that showcase his considerable chops—and restraint—on guitar. Fans of Al DiMeola, Pat Martino, Buddy Guy, B.B. King, and Eric Clapton should give it a listen.
"You Know the Game" introduces listeners to Keys' smoky lounge oeuvre, with clarinets and horns mime his crisp, clear guitar leads. Montgomery's keyboard helps fill the mix, and a tasteful trumpet solo follows a catchy turn-around. Rumbling bass supports the moody, introspective "Love and Innocence" but leaves room for oboe and clarinet flourishes before Keys interjects at the three-minute mark with a winding solo.
Jones' boisterous drums and cymbal work usher "Backyard" toward another terrific lead break, with Montgomery layering the measures with dreamy organ and electric piano. Only later does Keys' rapid-fire staccato picking yield to mirthful flute and other woodwinds. Sinewy bass and underpins the title track, whereon Keys dials up a gritty crackle on his Heritage, his fingers hop-scotching over the fret board as Jones pounds away, never losing time despite Keys' abrupt two-chord stop-starts.
A saxophone graces bluesy "Rhubarb Jam" as Keys weaves a bright, clean leitmotif in the right channel. "Senior Moment" evokes sleepwalking, confusion, and lapses in short-term memory with spy caper brass and thumping rhythm. Keys lays a thick guitar riff, then unleashes some wah-wah alternate picking over Jones' punctuating rim shot. "Telegraph Blues" showcases another snarling guitar lead—a bright, trebly sequence of notes that bounce over the uppity percussion and junkyard dog twelve-bar changes.
Keys revisits his own 1971 classic "Shawn-Neeq" (named for his then-newborn niece) by playing clean chords and arpeggios over Jones' sibilant ride cymbal. A descending chord pattern pops up later, but Calvin and the boys stay relaxed, riding out the eight minutes as horns and winds add ambiance. "The Hernia" capitalizes on Keys' plectrum-generated flurry of hammer-ons, pedal-points, and upper-register bends.
Electric Keys winds down with the eloquent "Touch," whose intimate, unaccompanied guitar sounds as if Keys—perhaps sitting alone in the corner of a big room—cranked the reverb on his amplifier and let loose with some classical and jazz phrasings for five minutes. It's as if the listener were granted fly-on-the wall license to a private session by a master shredder.
Originally published at:
http://www.examiner.com/review/jazz-guitarist-calvin-keys-returns-for-electric-n...