Erik Jekabson Sextet's cool, Bay Area vibe - A balm in these end times
Festival Peak
Tuesday, October 2, 2018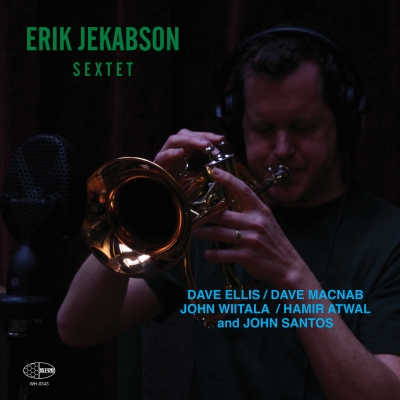 I received trumpeter Erik Jekabson's new album weeks ago. Ages, it seems. But lately, I haven't been in a space to really receive what his Sextet — Dave Ellis, Dave Macnab, John Wiitala, Hamir Atwal, John Santos — was trying to give.
Drama of my own kept me from fully appreciating the long, slow climb to a Jekabson nirvana (Anti-Mass, it's not my first time at this bandstand). I survived a school shooting, got caught up in the sexual provinces of bi-partisan politics surround Supreme Court nominee Brett Kavanaugh, and am waiting on pins and needles for the results of my mammogram. Then, the baking.
It's Autumn, after all.
But, I think I'm ready now.
Released Sept. 7, Erik Jekabson Sextet on Wide Hive Records came from almost five months of eating, breathing, and living Bay Area bliss. The nine original Jekabson compositions sound like San Francisco: cool, slightly dangerous, scintillating, tragic and romantic rolled into one expensive package — a lux combination of the detective novels we used to read as kids and crime dramas we'd watch with our parents, where the guy never gets the girl, and the gangsters get away.
This is his seventh album, second of its kind, recorded in one day with a hardcore rhythm section plus seven-time, Grammy-nominated conga/percussionist John Santos, guitar, sax, and Jekabson's smooth-flowing trumpet, pumping in nice, percolating music from behind the scenes and out on the floor.
My favorite this very moment is "Chrysalis," a simmering, shimmering, percussive wake-up call on a dull Seattle Tuesday on the precipice of another sunless Autumn series… the spark in the wandering wilderness of Jekabson's considered machinations.
"I would hear the beginnings or seeds of these songs at different times — sometimes during reflection, sometimes while traveling, often when watching something that interested me and made me think, 'How would this sound if it were a piece of music?'"
Brazilian baiao circling a sample of a memorable, trumpet-led groove in a short, staccato bandwidth that strangely lingers, thanks to mesmerizing patchwork from guest keyboardist Matt Clark and percussionist John Santos.
"Chrysalis" stirs the senses, while most of the rest of the tracks tend to sit back and set the background mood.
"Change up" features more of Jekabson on trumpet, as well as the rest of the Sextet doing a sweet number on solos. It's a sweet little old-fashioned play on blues in a kind of genteel, festive undertone.
"Medjool," my second fave, is a quiet stunner, because guitarist Macnab is in it, stirring the Middle Eastern, Clapton rock pot.
I don't know why exactly, I'm not a musician… But "Hive Wide" reminds me of a Steely Dan tune. Any Steely Dan tune, pick one. That flickering guitar by headlights, off on another late safari, the late Walter Becker twang through the scourges of a big city, taking in the night life.
Jekabson's tracks tend to start off gradually, concepts in his head, notes on a page, before burning at the edges, toward a mystifying, startling conclusion, growing increasingly complex, multi-faceted…human.
Jekabson likes his concept albums. Anti-Mass, which I reviewed in 2012, wove soft-spoken, artful concepts around a museum exhibit. The record made me think.
His new album makes me feel.
"I came up with the compositions for this album in between gigging, teaching, running the Young Musicians program at the California Jazz Conservatory, leading the Electric Squeezebox Orchestra Big Band, arranging and composing for other projects and getting prepared for the birth of my second daughter," Jekabson explained in a press release from Great Scott Productions. "This recording is a documentation of the sounds of my busy life here in the San Francisco Bay Area, interpreted by some of my favorite Bay Area musicians."
If a lot of the moody, reflective music on this new album sounds like a Bay Area movie soundtrack, that's not a coincidence, that's the natural result of on-location inspiration.
"I suppose all composers are influenced by their environment and I'm no different. I wrote music for this particular band, but I allowed the ideas and inspirations for the songs to come to me as I went about my life here. I would hear the beginnings or seeds of these songs at different times — sometimes during reflection, sometimes while traveling, often when watching something that interested me and made me think, 'How would this sound if it were a piece of music?'" the trumpeter continued. "I would immediately sing most of these musical ideas into my iPhone and then sit down at the piano later to finish them. I was able to envision the sound of these particular musicians when writing, as we've been playing and recording together now for a few years."
Originally published at:
https://festivalpeak.com/erik-jekabson-sextets-cool-bay-area-vibe-a6441e79e586