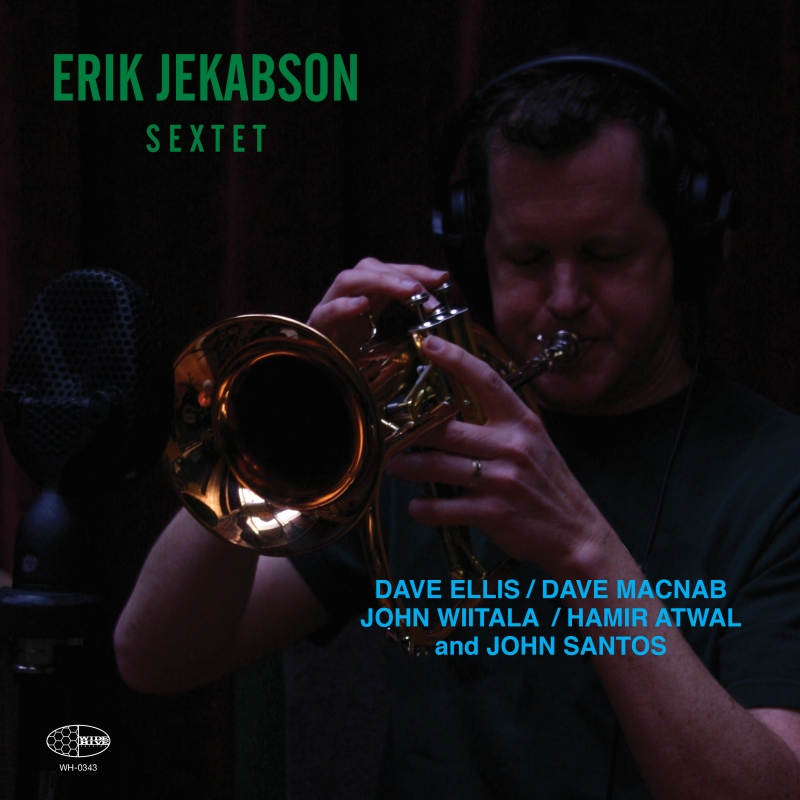 Erik Jekabson Sextet
This second album from Erik Jekabson's "Sextet" features nine expansive new compositions with an All-star group featuring saxophonist Dave Ellis (Charlie Hunter Trio), Guitarist Dave Mac Nab (Hamilton SF), Bassist John Wiitala, Drummer Hamir Atwal (Tuneyards) and legendary Percussionist John Santos.
Track Listing:
SAN PABLO AVENUE 7.35
FLOATING SONG 7.36
THE HILLS OF SANTA CRUZ 5.28
CHRYSALIS 6.27
CAT AND MOUSE 8.47
HIVE WIDE 8.24
GENTLE WAVE 4.53
CHANGE UP 6.34
MEDJOOL 8.38
As with his 2017 quintet album, the sextet date finds Jekabson exploring a sophisticated, tonally nuanced palette that evokes the expansive modal post-bop of the 1970s and albums by heavyweights like Pat Metheny, Woody Shaw, and David Liebman. The opening "San Pablo Avenue" has a dusky, early-evening pulse, rife with electric guitar and keyboard interplay, all of which evokes a vibrant city coming alive at night. Similarly evocative is the sad-eyed "The Hills of Santa Cruz," in which Jekabson lays down a mournfully romantic theme, framed by MacNab's sparkling guitar tones and a chirping desert of percussion sounds. Elsewhere, cuts like the hushed groover "Chrysalis" and the slinky "Hive Wide," with their roiling Latin percussion-accented rhythms and probing solos, bring to mind Freddie Hubbard's funky CTI period. What's particularly compelling about Jekabson's work here, as on most of his albums, is his generous sense for crafting a group sound.
AllMusic
Released Sept. 7, Erik Jekabson Sextet on Wide Hive Records came from almost five months of eating, breathing, and living Bay Area bliss. The nine original Jekabson compositions sound like San Francisco: cool, slightly dangerous, scintillating, tragic and romantic rolled into one expensive package — a lux combination of the detective novels we used to read as kids and crime dramas we'd watch with our parents, where the guy never gets the girl, and the gangsters get away.
This is his seventh album, second of its kind, recorded in one day with a hardcore rhythm section plus seven-time, Grammy-nominated conga/percussionist John Santos, guitar, sax, and Jekabson's smooth-flowing trumpet, pumping in nice, percolating music from behind the scenes and out on the floor.
Festival Peak
Erik Jekabson is a freelance trumpet player, composer, arranger and educator living in the San Francisco Bay Area. He has toured with Illinois Jacquet, John Mayer, Galactic, and has performed on the Tonight Show with Jay Leno and Late Night with David Letterman.