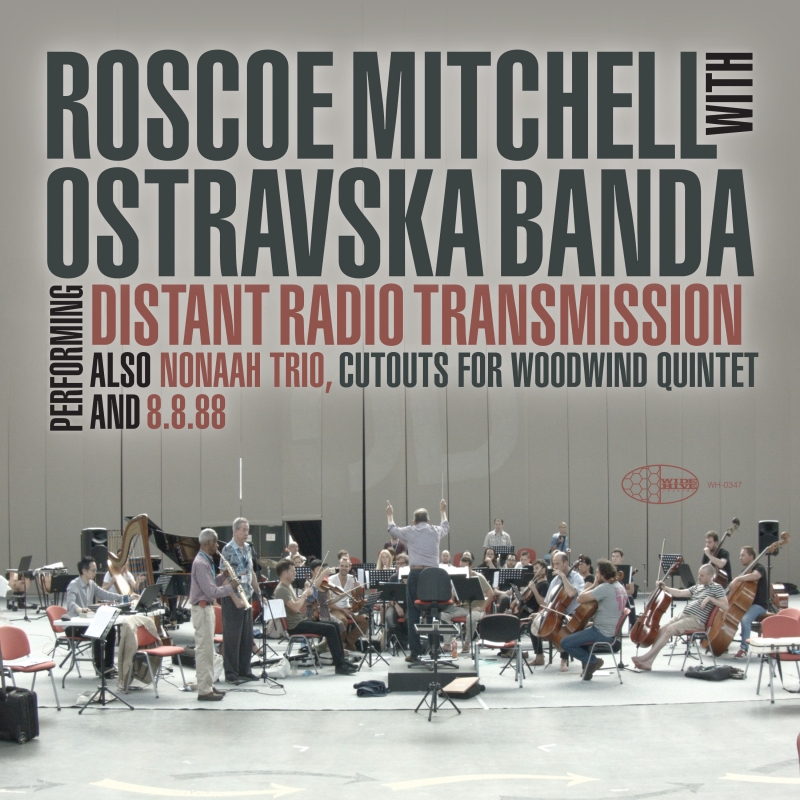 Roscoe Mitchell with Ostravaska Banda - Distant Radio Transmission Also Nonnah Trio Cutouts for Woodwind Quintet and 8.8.88
New! Great reviews from New York Times, All About Jazz, Chicago Reader, Gapplegate Classical-Modern Music Review, and Jazz Journal.
Distant Radio Transmission was recorded as an improvisation by Roscoe Mitchell, Craig Taborn, and Kikanju Baku in 2013 and released as the third composition on Roscoe Mitchell Conversations 1 (Wide Hive Records WH-0317).
It was then transcribed by Stephen P. Harvey, in 2016, with further Transcription and Orchestration of air sounds for Strings by John Ivers, in 2017. Finally, it was fully Orchestrated by Roscoe Mitchell in 2017 and recorded live at the festival Ostrava Days 2017 in Ostrava in the Czech Republic.
The Nonaah Trio Composed by Roscoe Mitchell
Recorded in Portland Oregon by Ryan Zubieta engineer and Josh Powell editing
Nonaah Trio:
Dana Reason: Piano
John C Savage: Flute
Catherine Lee: Oboe
Author's Note:
In 2009 I was asked by the American Composers Orchestra if I could present a composition in the summer of 2010 in the Miller Theatre at Columbia University in New York City. It was clear to me that "Nonaah" (five solo works for the alto saxophone completed in 1972) was the composition best suited to the event, and so I chose to develop a version for Chamber Orchestra based off a transcription of the trio for flute, bassoon and piano. Unlike previous adaptations, "Nonaah" for Chamber Orchestra was penned as an entirely through-composed work.
In 2013, when Ilan Volkov invited me to his Tectonics Festival in Glasgow, Scotland I decided to take this piece of music that began as a solo alto saxophone feature in 1971 and infuse it with the grandeur of a full orchestra. February 22, 2014 was the world premiere of my composition.
Cutouts For Woodwind Quintet Composed by Roscoe Mitchell
Roberta Michel: Flute
Christa Robinson: Oboe
Carlos Corddeio: Clarinet 

Sara Schoenbeck: Bassoon
John Gattis: French Horn
Recorded by Sascha von Oertzen in New York New York March 5th 2019
Mixed at Wide Hive Records June 2019 by Gregory Howe and Robert Kirby
Author's note:
This version of Cutouts, which is completely notated, was commissioned in 1981 by the Wisconsin Arts board and the Conimicut Foundation. In addition to traditional notation, this work contains symbols for extended techniques such as multiphonics, harmonics, micro-tones, special effects and circular breathing. The earlier works from the "cutouts concept" were scored for improvising ensembles.
8-8-88
Composed by Roscoe Mitchell
Performed on Yamaha Disklavier
Programmed and Recorded by Seth Horvitz
Mixed July 22nd 2019 at Wide Hive Records
Berkeley California by Gregory Howe
Author's note:
August 8, 1988: this is the day I decided to write a solo composition for the great concert pianist Mr. Joseph Kubera. Since this work was not subject to the constraints associated with commissioned work, I spent ten years finalizing the first movement. In 1998 The Mutable Music Foundation commissioned me to complete the composition's remaining movements. 8/8/88 consists of three sections. The first movement is 35 measures long, divided asymmetrically into uncommon time signatures such as 15/8, 11/8, 17/8 etc. The second movement has 17 measures and the third movement 44 measures.
Distant Radio Transmission
Composed by Roscoe Mitchell, Craig Taborn, and Kikanju Baku 2013
Transcribed by Stephen P. Harvey 2016/17
Transcription and Orchestration of air sounds for Strings
By John Ivers 2017 Orchestrated by Roscoe Mitchell 2017
Recorded live at the Festival Ostrava Days 2017 in Ostrava, Czech Republic.
Ostravská Banda is an international resident orchestra of Ostrava Days.
Petr Kotik, Conductor
Daniel Havel: flute; Prague, Czech Republic
Malgorzata Hlawsa: flute; Kaowice, Poland
Kamila Motková: oboe; Ostrava, Czech Republic
Denisa Bílá: oboe; Ostrava, Czech Republic
Lukáš Danhel: clarinet; Baratislava, Slovakia
Carlos Cordeiro: clarinet; New York, USA
Stefanie Liedtke: bassoon; Amsterdam, The Netherlands
Jan Soukup: bassoon; Prague, Czech Republic
Monika Cerovská: horn; Ostrava, Czech Republic
Jan Garláthy: horn; Budapest, Hungary
Andy Kozar: trumpet; New York, USA
William Lang: trombone; New York, USA
Gergely Lukács: tuba; Budapest, Hungary
Adam Maros: percussion; Budapest, Hungary
Miklos Holló: percussion; Budapest, Hungary
Chris Nappi: percussion; New York, USA
Keiko Shichijo: piano; Amsterdam, The Netherlands
Ivana Dohnalová: harp; Brno, Czech Republic
Conrad Harris: violin; New Yotk, USA
Pauline Kim Harris: violin; New Yotk, USA
Eszter Krulik: violin; Budapest, Hungary
Marco Cano: violin; Barcelona, Spain
David Danel: violin; Prague, Czech Republic
Nikolaus Schlierf: viola; Berlin, Germany
Juraj Madari: viola; Bratislava, Slovakia
Liuh Wen Ting: viola; New York, USA
Andrej Gál: violoncello; Bratislava, Slovakia
Matthias Lorenz: violoncello; Dresden, Germany
Juho Laitinen: violoncello; Helsinki, Finland
František Výrostko: contrabass; Bratislava, Slovakia
Juraj Bajús: contrabass Bratislava, Slovakia
Thomas Buckner, Baritone Voice
James Fei, Electronics
Roscoe Mitchell Soprano Saxophone
Track Listing:
Distant Radio Transmission 20:14
Nonaah Trio 14.45
Cutouts for Woodwind Quintet 8.44
8.8.88 1 4.25
2 1.11
3 3.20
There is a pronounced harmonic and melodic diffusion to the work, which is heightened by the bright sound colors in the orchestration. It is a testament to the initial inspiration of the made-music, of how to collectively and freely make sense spontaneously and then how that initial impetus can take flight again as a completely new progeny when orchestrated.
Gapplegate Classical-Modern Music Review
The five-movement Nonaah Trio, its roots in a composition for alto sax, teases out the original solo strand into its flute and oboe tributaries, with piano weightings. Cutouts is a witty and lyrical exegesis for woodwind quintet, 8.8.88 a cheeky piano "sonata" of mixed time signatures that's eruptive, quicksilver and, in its central movement, redolent of historic jazz antecedents.
Jazz Journal
Drawing nigh on 80, saxophonist/composer Roscoe Mitchell—an axe man who can blow high, hard flames or find blowsy elegance in the understated and the meditative—is showing no signs of a slowdown.
Jazz Times
Distant Radio Transmission is a whirling, appealing open palette full of textures and gradations. Mitchell understands the language of each instrument and he uses that knowledge to craft rhythmically interesting dialogs unburdened by fixed tempos and restricting structures. It's Mitchell's best work since Bells For The South Side (ECM, 2017), and highly recommended.
All About Jazz
The new album Distant Radio Transmission consists of four completely notated works, three of which are derived from Mitchell's improvisational practice. "Distant Radio Transmission" began life as a free improvisation by Mitchell, keyboardist Craig Taborn, and percussionist Kikanju Baku, and was subsequently transcribed and rearranged for orchestra... the piece has been expanded from a series of telegraphic exchanges of sonic information into a progression of rich textures charged by interjections from Mitchell's stabbing soprano saxophone and the absurdist syllable salad of vocalist Thomas Buckner.
Chicago Reader
What was once sparely avant-garde is now luminously experimental. Electronics join with tart wind harmonies and resonant pitched percussion during the opening. The baritone Thomas Buckner — a veteran of Robert Ashley's operas — brings abstract, ghostly exhalations to the mix, later on. Around the halfway point, when a stretch of Mitchell's striated soprano-saxophone ornamentations gives way to jaunty patterns in the wider orchestra, there is a sense of a singular intelligence at work.
It never sounds like easy listening. Though when focusing on the finer details in this "Distant Radio Transmission," it's easy to be transported by the intensity of this broadcaster's imagination.
New York Times
Called part of the 'American Iconoclast' by the New York Times, Roscoe Mitchell has forged a lifetime of truly free music and has lead an inspirational life as composer, musician, and teacher. Currently Emeritus Chair of Composition at Mills College, a position once held by esteemed composer Darius Milhaud, Roscoe's past is abundant with art and musical achievement and awards. His work with the A.E.C. the A.A.C.M are the majority of his recorded music, but he has also toured and performed with many of the greatest names of Jazz.